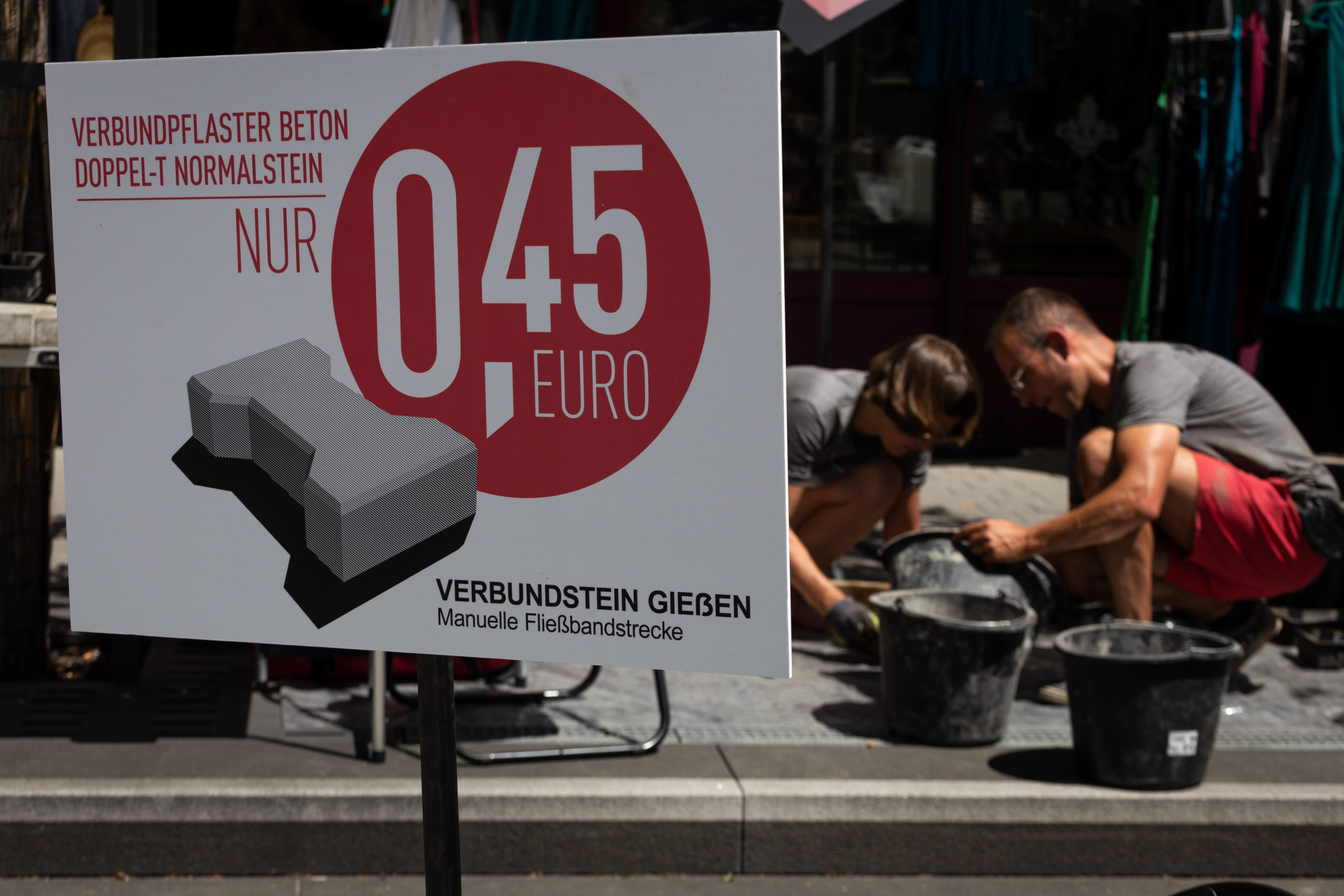 Manuelle Fließbandstrecke in Zusammenarbeit mit Marcus Große.

Was ist nur los in unseren Dörfern und Städten? Der inflationäre Einsatz von Verbundpflastersystemen als ästhetisches Programm. Ein unüberschaubares Formenvokabular diverser Kunststeine überzieht die Landschaft mit ihrem geometrischen Netz. Die Verbundpflaster ergießen sich aus den Baumärkten und Betonwerken in die Welt ‒ und führen zu anderen Baumärkten und Bauhöfen hin. Einzelne Landschaften verbinden sich zu einer Art kapitalistischen Über-Landschaft, die Privates und Öffentliches ästhetisch amalgamiert.

Das Projekt VERBUNDSTEIN GIEẞEN produziert Verbundsteinpflaster im weit verbreiteten Format des Knochensteins. Wir gießen ihn aus Beton ‒ manuell, liebevoll, einen nach dem anderen.


---

Manual assembly line in collaboration with Marcus Große.

What is going on in our villages and towns? The inflationary use of composite paving systems as an aesthetic program. An unmanageable amount of various artificial stones covers the landscape like a geometric grid. The composite stones burst out into the world – from hardware stores and concrete factories to other hardware stores and building yards. Separate landscapes merge to form a kind of capitalist over-landscape which aesthetically amalgamates private and public.

VERBUNDSTEIN GIEẞEN produces composite stone paving in the widespread format of the Knochenstein (bone stone). We pour it out of concrete – handmade, with love, one by one.