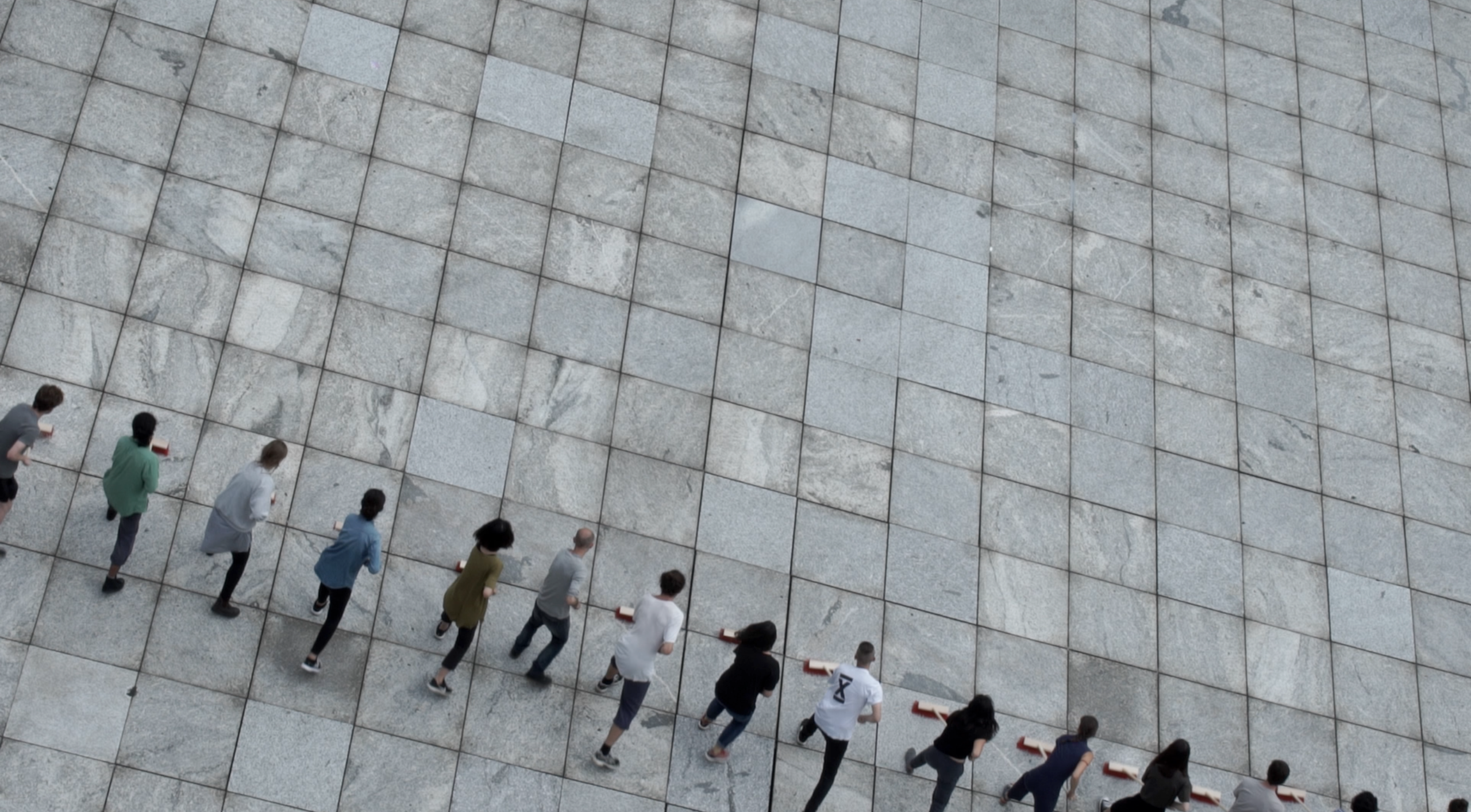 One-Channel Video, Farbe, Ton, 5:04 min, Loop

Mit roten Straßenbesen kehren eine Reihe von Menschen den Beton des umstrittenen Campus der Ruhr-Universität Bochum. Die brutalistische Architektur des Gebäudekomplexes, der in den 1960er Jahren als Vorzeigeprojekt der Bildung im Nachkriegsdeutschland erbaut wurde, zieht Fans und Feinde gleichermaßen an. Die besondere Aufmerksamkeit für diesen Ort, ihn zu etwas Bedeutungsvollem für Einzelne zu machen, sowie die Wertschätzung des Anderen und der Differenz im Allgemeinen, sind Ausgangspunkt der Arbeit mit dem Titel AHOI. Von dem Theologen E. Gräßner als "Ozeanriesen ohne Heck und Bug" beschrieben, ist das Durchkehren von der täglichen Reinigung an Bord eines Navy-Decks inspiriert. Transponiert auf die Betonflächen des Campus grenzt der Prozess an Absurdität. Die Künstlerin verweist auf den niemals endenden Prozess – und zugleich auf die Notwendigkeit – der Pflege von städtebaulichen Zeugnissen der 60er und 70er Jahre und den damit verbundenen sozialutopischen Idealen.

* Seemannssprache: bei der Schifffahrt gebräuchlicher Ausruf um auf sich aufmerksam zu machen, zur Begrüßung, Warnung oder Verabschiedung.

---

one-channel video, color, sound, 5:04 min, loop

Using red street brooms, a group of people sweeps the concrete surface of the controversial campus of Ruhr-University Bochum. Built in the 1960s as a flagship of education in postwar Germany, the Brutalist architecture of the building has attracted fans and foes alike. Drawing attention to the architectural environment, the artist proposes it as a space of importance for individuals and advocates an appreciation of the Other more generally. Described by the theologian E. Gräßner as an "ocean liner without stern and bow" the performance of sweeping is inspired by the daily cleaning routine on board of a Navy deck. Transposed to the concrete surfaces of the campus, the process borders on absurdity. The artist refers to the never-ending process and to the necessity of conserving the architectural evidence of 1960s and 1970s urban planning as well as its associated social utopian ideals.

* 'Ahoy' stems from the seafaring world, used to catch the attention of other crew members, as a greeting, a warning, or a farewell.


---

Credits:

Kamera (Camera) Konrad Behr, Julia Franke
Ton und Sound Design (Sound and design) Konrad Behr
Akkordeon (Accordion) Ina Weise
Schnitt (Editing) Konrad Behr
Performer*innen (Performers) Elham Asadpour, María Constanza Carvajal, Ahram Chae, Mateusz Cichocki, Devadeep Gupta, Anke Hannemann, Sophie Imping, Nikola Kekerovic, Jonas Kratzsch, Pia Krätzschmar, Asha Lester, Stefan Lesueur, Maedeh Nassouri, Julian Oberste, Yael Peri, Iskin Yagmur Ruzgar, Constanze Schulte, Nora Spiekermann, Edoardo Tedde, Daniel Theiler, Anna-Carolin Weber, Jakob Wirth, Astrid True May

Besonderer Dank an (special thanks to) Prof. Danica Dakic, Martin Neubacher M.A. (Wissenschaftlicher Mitarbeiter der Professur für Baugeschichte der TU Dresden), Dipl.-Ing. Saskia Schöfer (Landschaftsverband Westfalen-Lippe, Praktische Denkmalpflege für die Stadt Bochum und den Kreis Lippe).

Im Rahmen des Projektes CHE BELLA BRUTTA! – BAUHAUS GOES BOCHUM des MFA-Studiengangs "Public Art and New Artistic Strategies/Kunst im öffentlichen Raum und neue künstlerische Strategien", Bauhaus-Universität Weimar in Zusammenarbeit mit RUB arts & culture international der Ruhr-Universität Bochum.