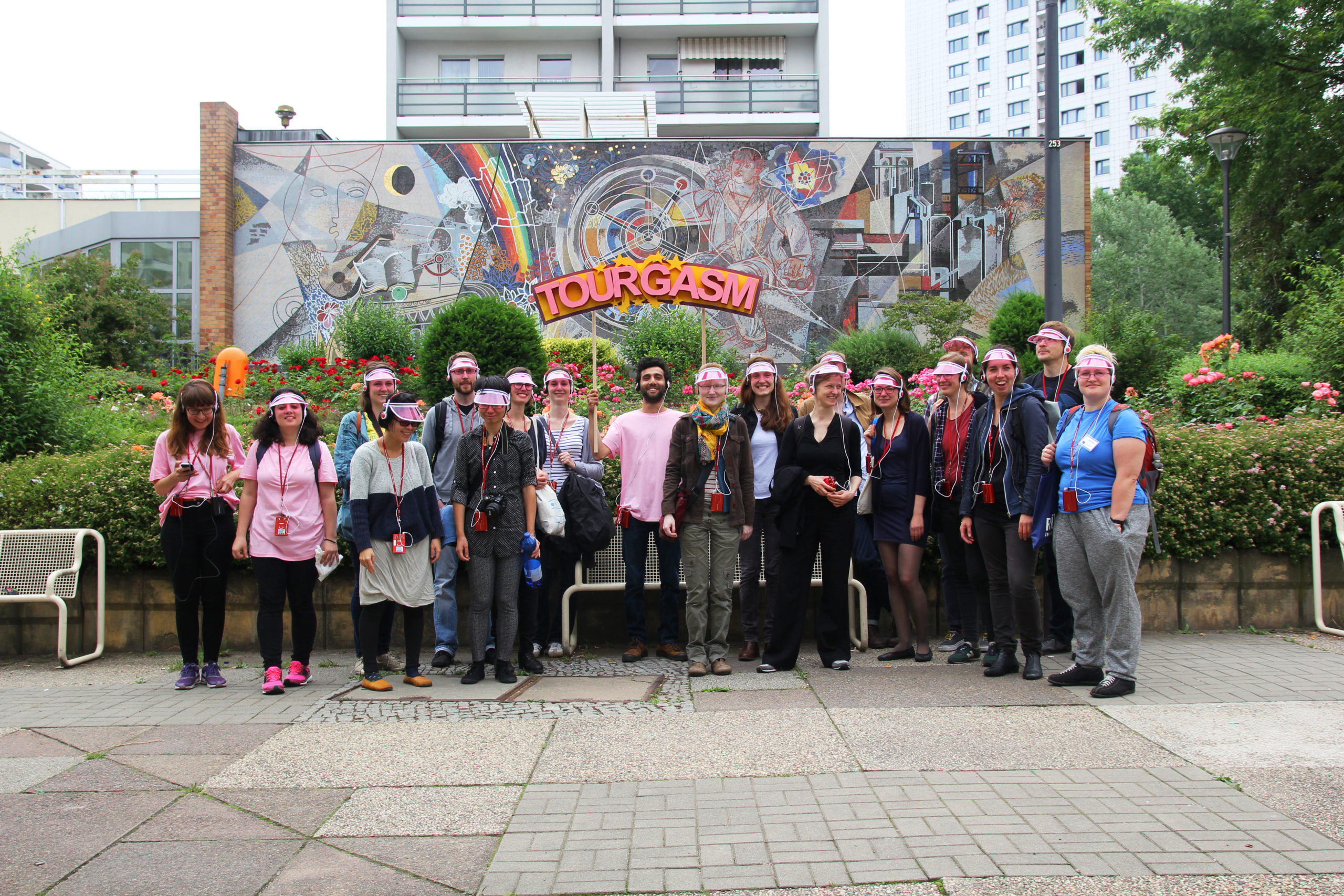 In Zusammenarbeit mit FREIZEIT.
Berlin, 2015

Tourgasm ist eine Audiotour durch nicht-touristische Orte. Es ist eine Abstraktion des touristischen Erlebnisses, um die Kluft zwischen realen Orten und ihren surrealistischen Gegenstücken hervorzuheben.

Tourgasm ist eine Audiotour durch den peripheren Berliner Stadtteil Marzahn, dessen überwiegendes Image, das eines öden, langweiligen Plattenbauwohngebietes ist. Tourgasm bedient sich der Sprache des hyper-Tourismus und verzaubert die Teilnehmenden mit Hilfe von Ritualen, Souvenirs, photo opportunities, einer Panoramaaussicht, einem Intro-Video, einer live Showeinlage und weiteren Klassikern bekannt aus der Tourismusindustrie. Die Teilnehmenden werden zwischen der Realität der Umgebung und einer Audioerzählung mit unverkennbaren Referenzen aus der Popkultur, ununterbrochen entertained.
---

In Collaboration with artist collective FREIZEIT.
Berlin, 2015

Tourgasm is an audio tour conducted in non-touristic places. It is an abstraction of the tourist experience, designed to highlight the gap between real places and their surrealistic counterparts. 

The hyper-tour Tourgasm took place in the peripheral district of Marzahn – an area, whose predominant image is of a dull, boring, residential Plattenbau neighborhood. Using the language of hyper-tourism, where the place is only a theme, we catered for the participants an experience based on a heightened reality, attending to every moment and need. Moving around the district, where there are few highly recognizable sightseeing points, we enacted rituals and created themed environments typical of the most touristic tour: souvenirs, photo opportunities, a panoramic view, informational video, among other classics.