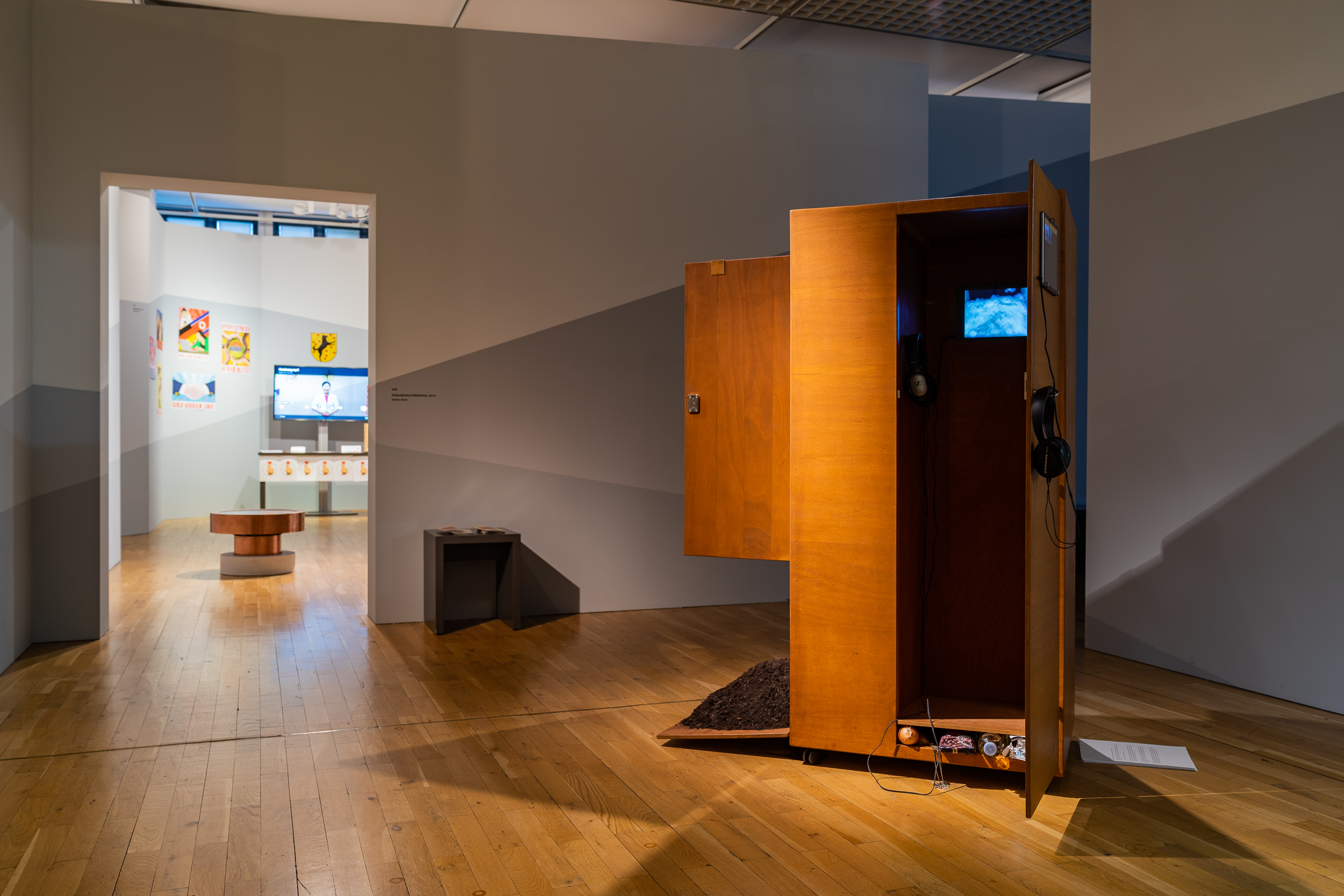 Weimar 2019 | www.imaginarybauhaus.com

IMAGINARY BAUHAUS MUSEUM is a collaboration between the international MFA-Programme "Public Art and New Artistic Strategies" at the Bauhaus-Universität Weimar and the Klassik Stiftung Weimar. Begun in 2015, it was designed as a long-term project with various exhibition locations. During the 2019 Bauhaus anniversary, it was presented in Weimar at the Schiller-Museum (April 3 to June 2) and in public spaces around the city (April to July), and will continue beyond the anniversary year.
What is the role of the historical Bauhaus in relationship to current artistic practices and teaching? How can the utopian potential of the Bauhaus be activated for the future?
It was with student works that the collection of the historic Bauhaus began in 1919 and with which the Weimar museum director Wilhelm Köhler realized an internationally significant museum policy. In 1925, during the politically forced relocation of the Bauhaus to Dessau, he and Walter Gropius selected 168 works from the workshops for the Weimar Museum.

Today, students, alumni and teachers of the international MFA-Programme are taking up the momentum for research and experimentation in order to test how the utopian potential of the Bauhaus can be activated for a museum collection of the future. Since 2015, the IMAGINARY BAUHAUS MUSEUM project has been tackling the social, economic and political issues of the present at selected exhibition stations in order to imagine 168 artistic works for a future Bauhaus collection. The internationality of the artists with their respective biographies and cultural backgrounds opens up different ways of seeing and acting.

Parallel to the exhibition of the historic collection at the new Bauhaus-Museum, a social utopian museum space was erected inside the Schiller-Museum and in the public spaces of the city. Together with citizens of Weimar and guests new spaces for action in light of global challenges are explored in different artistic forms and media as well as discursive events. In this show, specifically produced works are juxtaposed with a specially arranged exhibition within the exhibition; artistic formats and strategies combine to create a dynamic entity that change over the course of the show.

Artists: Minhee Ahn, Moawya Al Khadra, Elham Asadpour, Nathalia Azuero, Denise Rosero Bermúdez, Vanessa Brazeau, Vincent Brière, Nine Budde, Nicolas Buenaventura, Miguel Buenrostro, Antonije Burić, Suelen Calonga, María Constanza Carvajal, Ahram Chae, Vienne Chan,  Julieta Ortiz de Latierro, Egemen Demirci, Lucía Diegó, Runze Feng, Adhika Ferdinand, Sophie Foster, Kathryn Gohmert, Pia Grüter, Devadeep Gupta, Katherin Gutiérrez, Anke Hannemann, Sam Hopkins, Kavachi, Nikola Kekerović, Iva Kirova, Stefan Klein, Denise Lee,  Asha Lester, Stefan Lesueur, Sujin Lim, Vasili Macharadze, María Paula Maldonado, Maayan Miriam Mozes,  Matheus Opa, Mila Panic, Eleftheria Panousi, Yael Peri, Saman Pourisa, Iskin Yagmur Ruzgar, Paloma Sanchez-Palencia, Claire Seringhaus, Lena Skrabs, Nora Spiekermann, Natsumi Sugiyama, Saša Tatić,  Edoardo Tedde, Cansu Naz Tekir, Daniel Theiler, Michael Usling, Farzane Vaziritabar, Ginna Alejandra Vélez Carrasco, Claire Waffel,  Isaac Chong Wai, Ina Weise, Jakob Wirth, Sze Ting Joephy Wong

IMAGINARY BAUHAUS MUSEUM (2015 – ongoing) is an artistic research exhibition series of the MFA program "Public Art and New Artistic Strategies", Faculty of Art and Design of the Bauhaus-Universität Weimar under the direction of professor Danica Dakić, Anke Hannemann, Ina Weise, Jirka Reichmann (coordinator) international students and alumni of the MFA program.

The exhibition station at Schiller-Museum is a collaboration with Vanessa Brazeau, Stefan Klein, Natsumi Sugiyama, Dr. Sabine Folie, Dr. Boris Buden.

Photo: Darko Velazquez
Video: Konrad Behr
---

IMAGINARY BAUHAUS MUSEUM ist eine Zusammenarbeit des internationalen Masterstudiengangs "Kunst im öffentlichen Raum und neue künstlerische Strategien" der Bauhaus-Universität Weimar mit der Klassik Stiftung Weimar. 2015 begonnen und als Langzeitprojekt mit verschiedenen Ausstellungsstationen angelegt, präsentiert es sich anlässlich des Bauhaus-Jubiläums 2019 mit einer Station in Weimar: im Schiller-Museum (3. April bis 2. Juni) und im öffentlichen Raum der Stadt (April bis Juli), um anschließend auch über das Jubiläumsjahr hinaus fortgesetzt zu werden.

Was bedeutet das historische Bauhaus für die aktuelle künstlerische Praxis und Lehre? Wie können die utopischen Potenziale des Bauhauses für die Zukunft aktiviert werden?

Es waren Arbeiten von Studierenden, mit denen 1919 die Sammlung des historischen Bauhauses begann und mit denen der Weimarer Museumsdirektor Wilhelm Köhler eine international herausragende Museumspolitik realisierte. 1925 suchte er anlässlich des politisch erzwungenen Weggangs des Bauhauses nach Dessau zusammen mit Walter Gropius 168 Arbeiten aus den Werkstätten für das Weimarer Museum aus.

Den Impuls des Forschens und Experimentierens greifen heute Studierende, Alumni und Lehrende des internationalen Studiengangs auf, um zu erproben, wie sich die utopischen Potenziale des Bauhauses für eine Museumssammlung der Zukunft aktivieren lassen.

Seit 2015 setzt sich das Projekt IMAGINARY BAUHAUS MUSEUM an ausgewählten Stationen mit den gesellschaftlichen, ökonomischen und politischen Fragestellungen der Gegenwart auseinander, um 168 künstlerische Werke für eine Bauhaussammlung der Zukunft zu imaginieren. Die Internationalität der Künstler*innen mit ihren jeweiligen Biografien und kulturellen Hintergründen eröffnet dabei verschiedene Sicht- und Handlungsweisen.

Parallel zur Ausstellung der historischen Sammlung im neuen Bauhaus-Museum, wird im Schiller-Museum und im öffentlichen Raum der Stadt ein sozialutopischer Museumsraum errichtet, in dem gemeinsam mit Bürger*innen Weimars und Gästen, in unterschiedlichen künstlerischen Formen und Medien sowie diskursiven Veranstaltungen, neue Handlungsräume angesichts globaler Herausforderungen erkundet werden.

Viele eigens neu produzierte Werke stehen einer speziell konzipierten Ausstellung in der Ausstellung gegenüber – künstlerische Formate und Strategien verbinden sich zu einem dynamischen Gefüge, das sich über die Dauer der Schau verändert.

IMAGINARY BAUHAUS MUSEUM ist eine Ausstellungsreihe der künstlerischen Forschung des MFA-Studiengangs "Kunst im öffentlichen Raum und neue künstlerische Strategien", Fakultät Kunst und Gestaltung der Bauhaus-Universität Weimar unter der Leitung von Professorin Danica Dakić, Anke Hannemann, Ina Weise, Jirka Reichmann (Koordination)

Die Ausstellungsstation im Schiller-Museum Weimar wurde in Zusammenarbeit mit Vanessa Brazeau, Stefan Klein, Natsumi Sugiyama, internationalen Studierenden und Alumni des Masterstudiengangs sowie mit Gastprofessorin Dr. Sabine Folie, Dr. Boris Buden und weiteren Gästen realisiert.