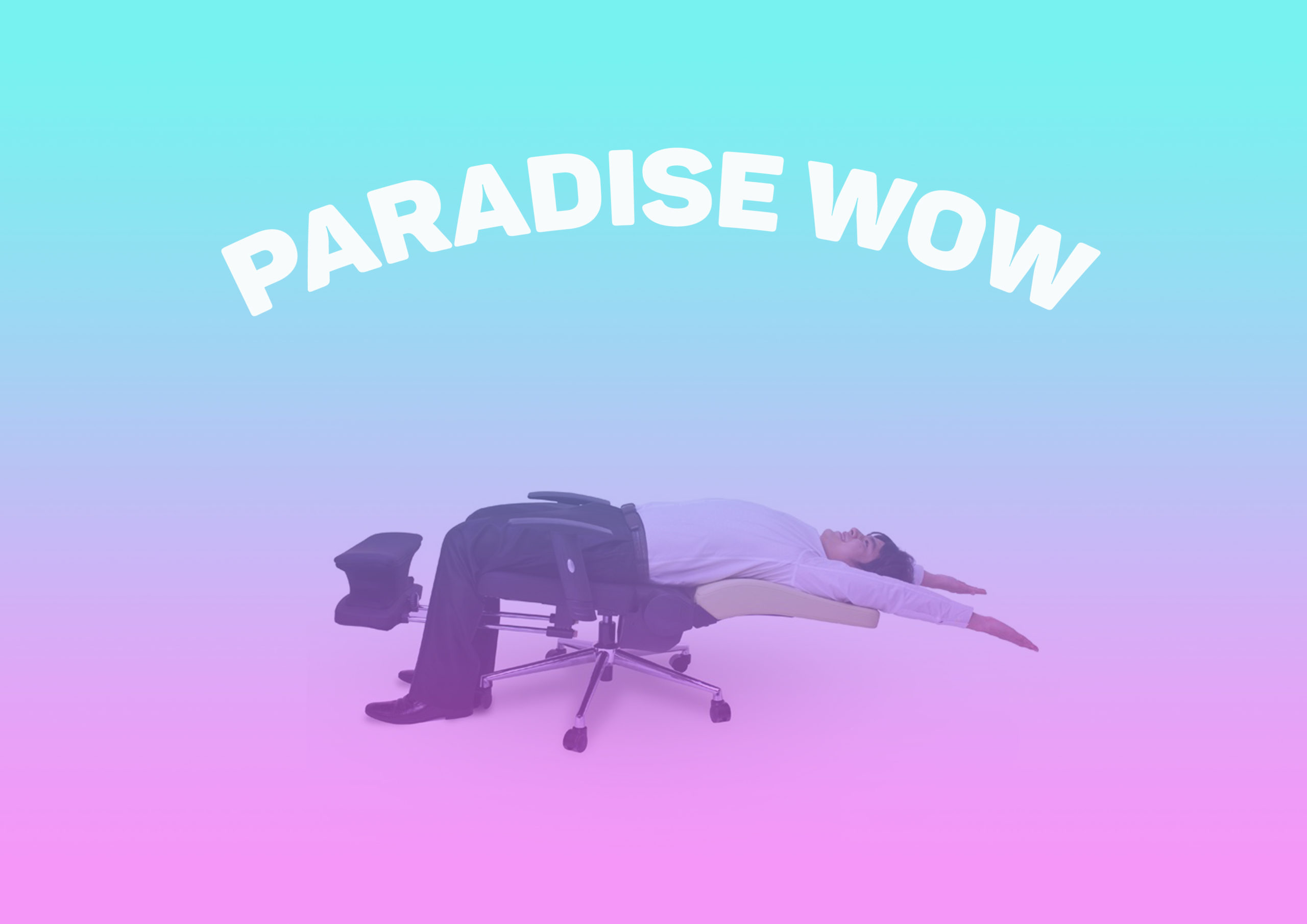 In Zusammenarbeit mit dem Künstler*innen-Kollektiv FREIZEIT
Asia Contemporary Art Platform NON Berlin, 2016

Zwangloses Zusammenstoßen, Naturimpressionen, Stimmungsaufheller, zirkulierende Arbeitsabläufe. Diese Prinzipien des Bürodesigns dringen mehr und mehr in unser tägliches Leben ein.

Paradise WOW reflektiert aktuelle Trends im Bürodesign, die durch die Minimierung der Notwendigkeit, den Arbeitsplatz verlassen zu müssen, zur Maximierung der Produktivität führen. Paradise WOW präsentiert brandneue Schreibtisch-Layouts, deren Design auf Methoden aktueller Forschung beruht und den Angestellten hilft, menschliche Einschränkungen zu überwinden.

Neben innovativen Großkonzernen wie Google, Lego oder YouTube, die bereits erhebliche Summen in die Umgestaltung ihrer Büros investiert haben, folgen nun auch aufstrebende Startups diesem Beispiel. Designs dieser Art haben die monotonen Zellenbüros der Vergangenheit in multidimensionale Traumlandschaften der Zukunft verwandelt. Treten Sie ein und werden Sie Zeuge einer Wunderwelt, in der Mitarbeiter die Kletterwände hinaufkraxeln oder einfach in gestrandeten Heißluftballons abhängen. Arbeit und Freizeit verschwimmen in dieser multifunktional designten Umgebung nahtlos miteinander.

Die Illusion endloser Produktivität und das unermessliche Wohlbefinden der Angestellten werden durch die stetige Verbesserung des Arbeitsumfeldes regelrecht befeuert während sich alle völlig von dem Firmen-Lifestyle aufsaugen lassen. Dieses neue Arbeits-Freizeit-Gleichgewicht durchdringt nach und nach unsere Kultur und verändert unsere Erwartung an das, was die Arbeit mit sich bringt.

Die von Paradise WOW gestalteten Arbeitsplätze befassen sich mit individueller Produktivität und sind in einem Arbeit-Freizeit-Kreislauf angeordnet. Die Installation umreißt ein dystopisches Szenario, in dem leistungsorientierte Trends genutzt werden, um die Persönlichkeit und Subjektivität der Arbeitnehmer in das Kapitalvermögen der Firma zu verwandeln.


---

In collaboration with the artist collective FREIZEIT
Asia Contemporary Art Platform NON Berlin, 2016

Casual Collisions, Reminders of Nature, Mood Enhancements, Circuit Tasking. These recent office design principles are infiltrating daily life.

Paradise WOW is a reflection on office design trends which promise to maximize productivity while minimizing the necessity of ever leaving the workplace. Using popular research-backed methods, Paradise WOW presents desk installations designed to help employees overcome human limitations.

Global corporations like Google, Lego and YouTube have spent significant sums of money on extreme office remodeling, with aspirational startups following suit. Such designs have turned cubical monotony into multi-dimensional dreamscapes. Step through the door and you are transported to a scenic retreat, colleagues are traversing the rock climbing wall, or hanging out in the grounded hot air balloon.

The escalation of office perks bolster the illusion of endless productivity and well-being while employees become completely immersed in the company's lifestyle. The new work-leisure balance trend is trickling down to affect larger culture, transforming our expectations of what exactly work entails.

Paradise WOW's desk installations attend to individual productivity and are assembled in an work-leisure circuit. The installation outlines a dystopian scenario in which productivity-centered trends are used to turn employees' personality and subjectivity into company's assets.