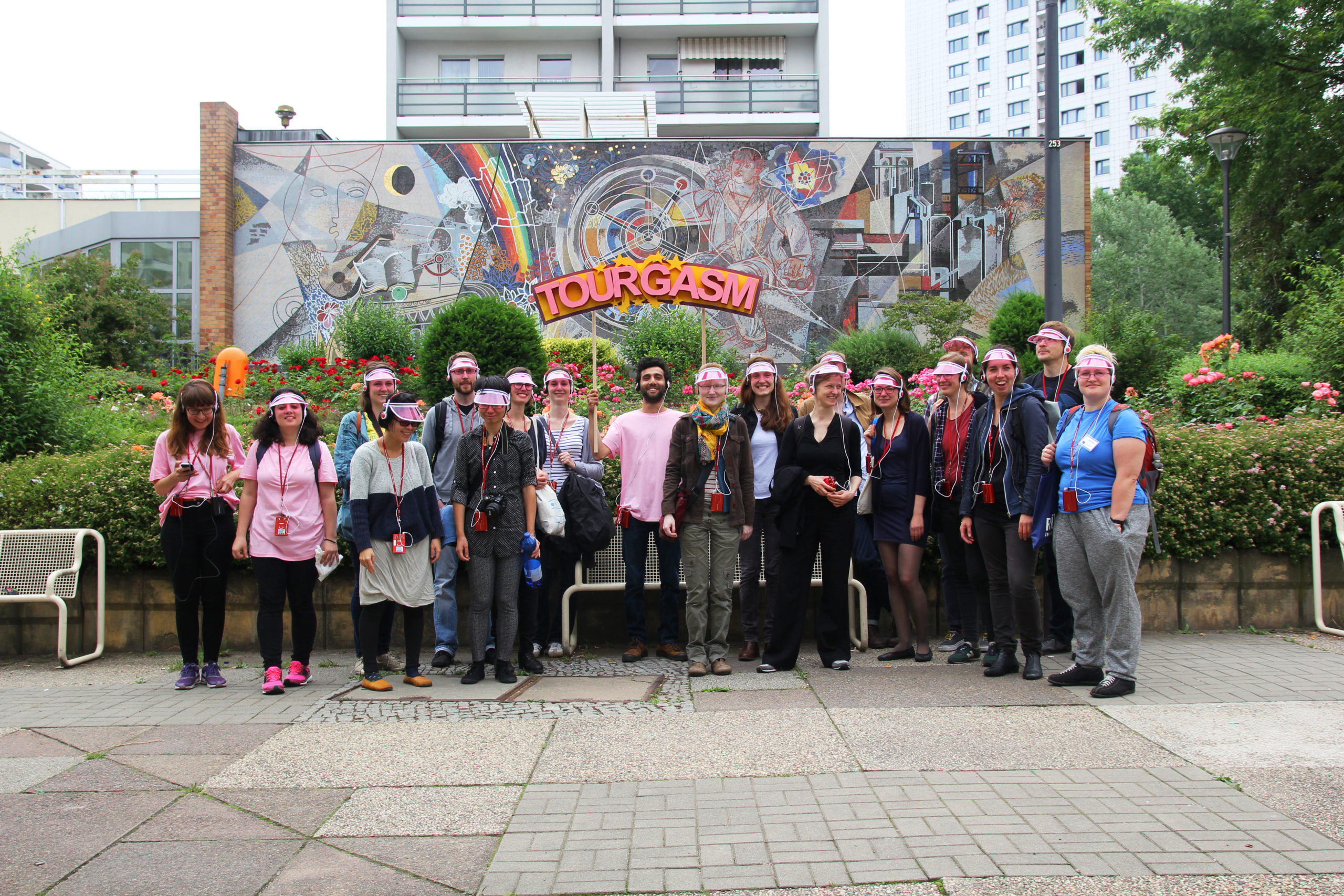 In Zusammenarbeit mit FREIZEIT.
Berlin, 2015

"Tourgasm" interveniert in den Prozess und die Konsequenzen von Tourismus indem der Mittelsmann (Künstler*innen und Kreative) übersprungen wird und wir uns direkt den apokalyptischen Auswirkungen, dem hyper-tourism, widmen.

"Tourgasm" ist eine Audiotour durch den peripheren Berliner Stadtteil Marzahn, dessen überwiegendes Bild, das eines öden, langweiligen Plattenbauwohngebietes ist. "Tourgasm" bedient sich der Sprache des hyper-Tourismus und verzaubert die Teilnehmenden mit Hilfe von Ritualen, Souveniers, "photo opportunities", einer Panoramaaussicht, einem Intro-Video, einer live Showeinlage und weiteren Klassikern bekannt aus der Tourismusindustrie. Die Teilnehmenden werden zwischen der Realität der Umgebung und einer Audioerzählung mit unverwechselbaren Referenzen aus der Popkultur, ununterbrochen entertained.


---

In Collaboration with artist collective FREIZEIT.
Berlin, 2015

Artists are instrumentalized for the economic development of cities, as they are attracted to certain neglected areas, creating a desirable image of them, which is then used by the tourism industry. Tourgasm addresses how tourist performances determine the boundaries between destinations and non-destinations. With our tour we want to intervene in the processes and consequences of tourism, by skipping the middle-man (artists and creative people) and going straight to the apocalyptic aftermath – hyper-tourism.

The hyper-tour Tourgasm took place in the peripheral district of Marzahn – an area, whose predominant image is of a dull, boring, residential Plattenbau neighborhood. Using the language of hyper-tourism, where the place is only a theme, we will cater for the participants an experience based on a heightened reality, attending to every moment and need. Moving around the district, where there are few highly recognizable sightseeing points, we enacted rituals and created themed environments typical of the most touristic tour: souvenirs, photo opportunities, a panoramic view, informational video, among other classics. The participants were constantly entertained, creating a gap between the reality of the surroundings and the imaginative narrative of Marzahn.